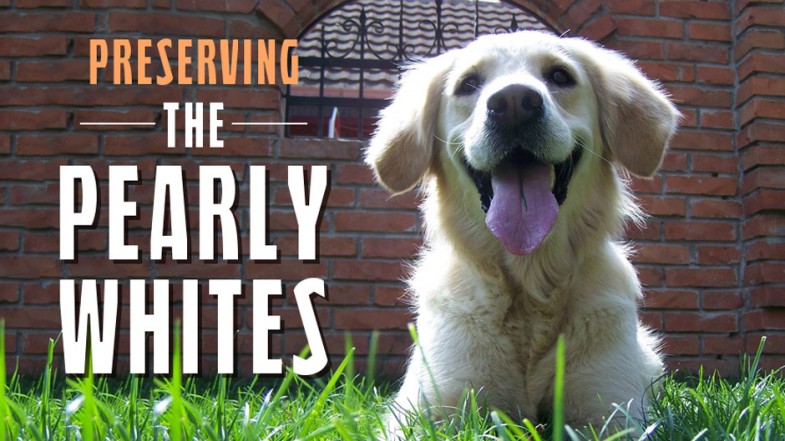 Did you know that it's National Pet Dental Health Month? The American Veterinary Medical Association (AVMA) started this awareness campaign several years ago to alert people about the importance of caring for their pet's oral health. Although most pet owners take excellent care of their dog or cat, many often overlook tooth brushing and scheduling regular professional cleanings. The result is that 80 percent of companion animals have some form of dental disease by the time they reach age three. The Country Club Pet Hospital veterinary team encourages you to strongly consider the importance of dental health for your pet.
BAD BREATH IN PETS IS NO LAUGHING MATTER
It's a common joke among pet owners that they love their dog or cat's kisses despite the terrible breath that comes with them. Unfortunately, bad breath is one of the first signs that your pet could have periodontal disease. Oral chews can help disguise bad breath, but eliminating it and preventing periodontal disease requires regular dental care.
Left untreated, periodontal disease can destroy the bone of your pet's teeth and eventually cause tooth loss. This condition, also called gum disease, occurs when plaque, tartar, and bacteria build-up and attack your pet's gum tissues. Once the teeth are gone or badly worn, it is painfully difficult for your pet to chew his food and get the nutrition he needs to stay healthy.
Other indications that your pet could have periodontal disease include excessive drooling, deeply set stains on the teeth, and reluctance or refusal to eat due to pain. Periodontal disease can range from mild to severe. The good news is that it might be reversible with immediate intervention. Please ask our veterinary team for a recommendation for specific products.
WHAT TO EXPECT AT AN ORAL EVALUATION AND CLEANING
Our staff uses anesthesia during a dental health exam to make sure that your pet remains comfortable and doesn't experience stress. We use special veterinary dental tools to remove plaque and tartar that sits both above and below her gum line. The next step is to polish your pet's teeth from the outside. Finally, we apply fluoride to strengthen the enamel of your pet's teeth and guard against the future buildup of plaque and tartar.
CARING FOR YOUR PET'S TEETH AT HOME
If you can't brush your dog or cat's teeth daily, at least try for several days each week. Start the process slowly by purchasing a species-appropriate toothbrush and toothpaste from our online store. Hold these items in your hand and allow you pet to lick and sniff them. The next day, put the toothbrush in your pet's mouth for a few seconds so he gets used to them. You can then work up to brushing for a few seconds until you're able to reach a full two minutes. In our online store, we carry all of the items you'll need for keeping your pet's smile bright!
We understand that some dogs and cats will resist having their teeth brushed. Please don't hesitate to contact us at (817) 477-4143 if you need additional help with the process.
Image source: Pixabay